Warm Hubs and Mobile Warm Hub
As social isolation has increased due to Covid-19, WRCC believes it's more important than ever to help our vulnerable residents, particularly those living in villages and rural areas. Many were struggling before the pandemic and, even as restrictions relax and life returns to "normal", will continue to be affected for many reasons. These include limited social activities, rural transport cutbacks, insufficient affordable housing, lack of local employment and, increasingly, fuel poverty. 
People of all ages and backgrounds are at risk. For example, elderly people who go for days without speaking to another person.  Those who feel the cold but can't afford to heat the whole home and so live in one room. A young parent who has to rely on a limited bus service for the school run or to go shopping, or a disabled person who can't find suitable local work and spends most of their time at home. For many people, feeling alone can lead to depression, anxiety and mental and physical health problems.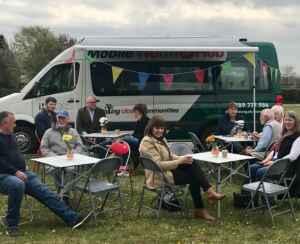 We've set up Warm Hubs and our Mobile Warm Hub service in Warwickshire and Solihull to help communities target social isolation. We're encouraging people to come together and reconnect with others in their community,  particularly those most who are vulnerable.
This important initiative is supported by Cadent Gas, the UK's largest gas distribution network. Together, we can help to advise people on energy efficient practices and fuel affordability, support community buildings and the volunteers who run local activities. WRCC collaborates with a wide range of other Warwickshire organisations, including environmental charity Act on Energy, Warwickshire CAVA, Warwickshire Rural Hub, mutual aid groups and many other support groups.  We're keen to provide information to local residents and help improve their wellbeing.  We also partner with VASA to provide the Mobile Warm Hub service – find more information on this community minibus service below.
What is a Warm Hub? 
A Warm Hub, accredited by WRCC, is an affordable, inclusive activity run for the community by the community, in a warm and safe space like a village hall. Each community will have its own specific needs but here are a few examples:
Village hall committees setting up breakfast or lunch clubs, which may include takeaway or delivery options for those unable to attend 
Community groups starting a dementia cafe with additional support for carers
"Repair shop" groups teaching teenagers and young adults practical repair skills and encouraging recycling 
Cookery clubs showing children and parents how to prepare healthy meals on a budget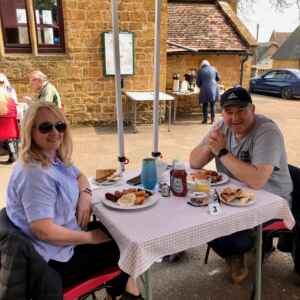 As well as helping to reduce social isolation, Warm Hubs offer other benefits. Village hall management committees can get advice and support on energy efficiency and volunteer training, and may be able to access funding for  relevant facilities, eg kitchen equipment, insulation and heating. Group organisers can promote accredited activities to reassure attendees they're run in supportive, well managed venues.
And Warm Hubs can put residents in touch with a range of community support services, as well as access to free advice on fuel affordability and tips on keeping warm and safe at home.
Warwickshire's first Warm Hub was launched at Shotteswell Village Hall in December 2020 (adapted to be a home delivery/takeaway event to comply with Tier 3 regulations in place).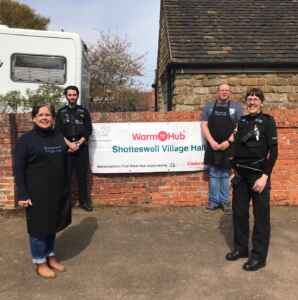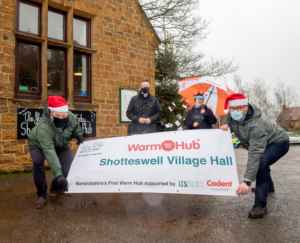 Shotteswell's Breakfast Club event runs monthly
Their Breakfast Club is a highlight for the local community, with tasty cooked breakfasts being enjoyed by residents of all ages. Shotteswell Village Hall also launched a campaign to promote rural Bleed Control Kits in May 2021, in conjunction with our Mobile Warm Hub.
As community spaces start to open up again, and demand is growing for more inclusive activities, we're in touch with several village halls and community groups who are interested in becoming Warm Hubs. Our newest Warm Hub was launched at The Crawford Memorial Hall in Bidford on 15th September, following regular weekly coffee and chat social mornings run by our Mobile Warm Hub (see below).  This event was also supported by Wales & West Utilities in collaboration with Cadent.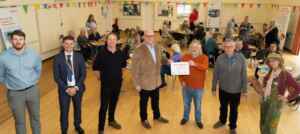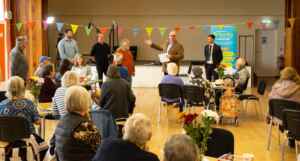 Photos: Charlie Budd, The Tall Photographer
Parish Council Chair Bill Fleming said: "The minibus visits kept Bidford people in touch with each other, especially those who wouldn't otherwise have had anywhere to go, and no one to chat to face to face.  It's made such a difference to the local community and the Parish Council is delighted to be carrying on the great work that the Mobile Warm Hub started".
We have commissioned a short video showing the difference that Warm Hubs and the Mobile Warm Hub can make to communities such as Bidford, and we look forward to sharing this shortly.
Mobile Warm Hub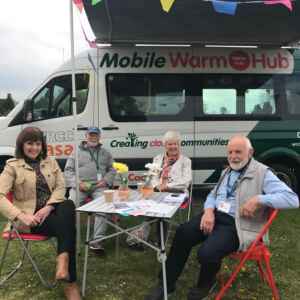 Our Mobile Warm Hub service is run by WRCC and VASA working together, supported by Cadent, and complements the Warm Hubs project.  Our converted community minibus – also nicknamed our "Chattybus" – took to the road in May 2021 and since then we've run a Monday to Friday service visiting Warwickshire communities on a weekly or fortnightly basis, supported by volunteer drivers and hosts.
We provide a welcoming, safe outdoor space for residents to meet up and enjoy a friendly chat over free coffee/tea and biscuits. It's a very popular service for people of all ages – and for some residents it's become a social lifeline after so many months of being alone at home. Our volunteers also look forward to meeting up with our "regulars" as well as getting to speak to new faces – everyone is welcome at our Mobile Warm Hub events. Recent events have featured performances by a community band and by a professional magician.
Different communities have different needs and our Mobile Warm Hub can pay weekly visits,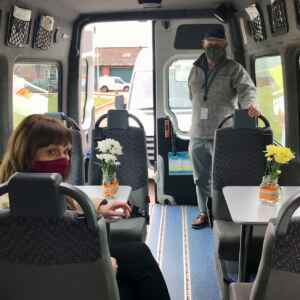 monthly visits or occasional stops as required (subject to booking availability). We can work with local volunteers to help set up permanent Warm Hubs in village halls and community spaces, helping to create new, inclusive activities. We can also offer a place for residents to meet in more remote areas with no local facilities.
The Mobile Warm Hub carries leaflets and materials about energy saving and home safety matters, as well as information on a range of other community support services. We're collaborating with organisations across the county such as Act on Energy and the Mobile Libraries Service, and Cadent and other project supporters may also join us from time to time to provide helpful community information and advice.
Current visits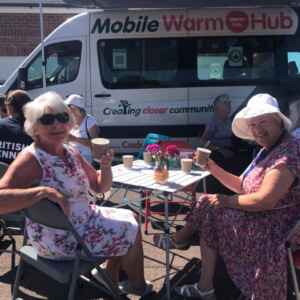 Mondays –  2.00pm – 3.30pm, Gamecock Barracks, Bramcote (weekly)
Tuesdays – 10.30am – 12.30pm, Meriden Sports Park (weekly)
Wednesdays – 1.00pm – 2.30pm, Shotteswell Village Hall (weekly, October), new venue TBC
Thursdays – 10.30am – 12.30pm, Ettington Community Centre and new venue TBC (alternating fortnightly)
Fridays – 10.00am – 12.00 noon, Beauchamp Court Community Lounge, Kenilworth (weekly)
Watch this space and our social media channels for updates and photos from our visits – we could be coming to your area very soon!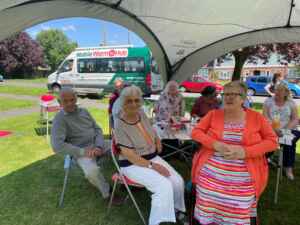 Next steps
Have you got a great idea for a Warm Hub, or would you like to book a Mobile Warm Hub visit to your village? Or would you just like to find out more about what we're doing and how your community can benefit? Get in touch with us now to find out more.
For information about Warm Hubs, please email warmhubs@wrccrural.org.uk
For information about our Mobile Warm Hub, please call 01789 777986 (Mon – Thurs, 9.00am – 4.00pm; Fri 9.00am – 1.00pm, answerphone service available outside these times) or email mobilewarmhubs@vasa.org.uk.
We look forward to hearing from you!