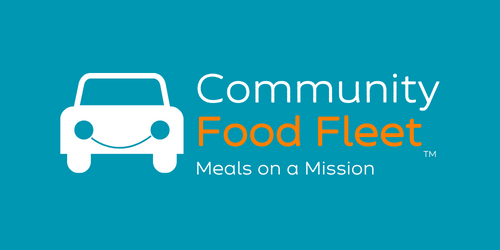 Discover Community Food Fleet!
Community Food Fleet helps residents remain independent, safe and well in their homes. Our friendly drivers deliver nutritious, hot lunchtime meals and make sure all is well when inside in the home. In case of any concern, we notify the Next of Kin immediately.
We offer a 4-week rolling menu that provides many meal choices and can cater to specific dietary requirements. You can choose from 1, 2 or 3-course meals plus a teatime pack (a sandwich, cake, and yoghurt) for later in the day.
Our flexible service allows you to order meals as often as you need them, whether every day or a couple of times a week. We understand that plans may change, so you can call us before 10:00am to cancel your meal for that day. This service operates 365 days a year so you'll never be without a hot meal!
Our drivers are key to the Meals-on-Wheels service. They can help fill in your meal choice forms, plate your food, or collect cutlery, just ask!
Community Food Fleet is a not-for-profit project operated by WRCC.
Are you wanting to know more?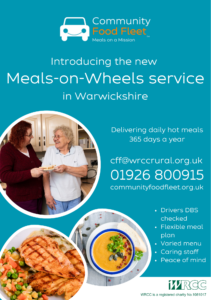 FAQs – including payment options, details of the welfare check, service flexibility, delivery times and dietary provisions.
Information leaflet including a price list, sample menu, how to order and contact details.
Menu choices – daily menu options on a 4-week rolling basis
Still have questions?  Get in touch. Email us at cff@wrccrural.org.uk  or call 01926 800915.