Community Transport – IndieGo Rugby – Demand Responsive
Call 01926 742000 (option 3) to register and book your travel.*
Community Transport of the future
Demand-responsive transport is the next generation of transportation set up to help rural communities feel more connected and help residents do what they need when they need it.
What is IndieGo?
IndieGo is an affordable community transport scheme helping Rugby residents get out and about in their local area to access local services or amenities. IndieGo minibuses buses are new, clean, warm, and wheelchair/pushchair-accessible.
This scheme is beneficial if you struggle to make your journey due to mobility issues or a lack of public transport.
How does it work?
IndieGo is a demand-responsive form of community transport. This service is available when you need it. Call and book your travel to suit you. A significant advantage of this service is that you can be collected from and returned to your home address (or agreed to pick up point).
The borough has three zones, with a daily bus in each zone (except Sundays). You can travel to places within your zone or into Rugby town centre. My village is in which zone?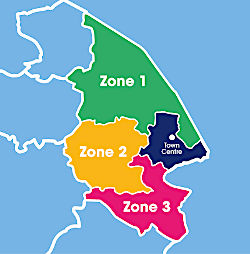 IndieGo can help with the following:
Commuters travelling to work
GP/Hospital visits
Shopping and
Leisure
Want some even better news?
Concessionary passes are valid for travel on this service! If you are a pass holder, this service comes at no cost. I'm not a pass holder; how much will I pay?
Let us help with your questions. Call our friendly team to learn more. 01789 471595
Ready to experience IndieGo?
Call 01926 742000 to register and book your travel.*
*Calls are charged at the local rate. Some mobiles may be higher. From Monday, 20 February 2023, please select option 3 from the menu for IndieGo services.