Mobile Warm Hub
Our Mobile Warm Hub service started running in May 2021, when people were unable to meet up together indoors due to Covid-19. Instead of waiting for halls and centres to reopen, we converted one of our Back&4th community minibuses and took to the road! Since then we've run a regular free community cafe service visiting locations around Warwickshire and Solihull. This is also supported by our friendly and experienced volunteer drivers.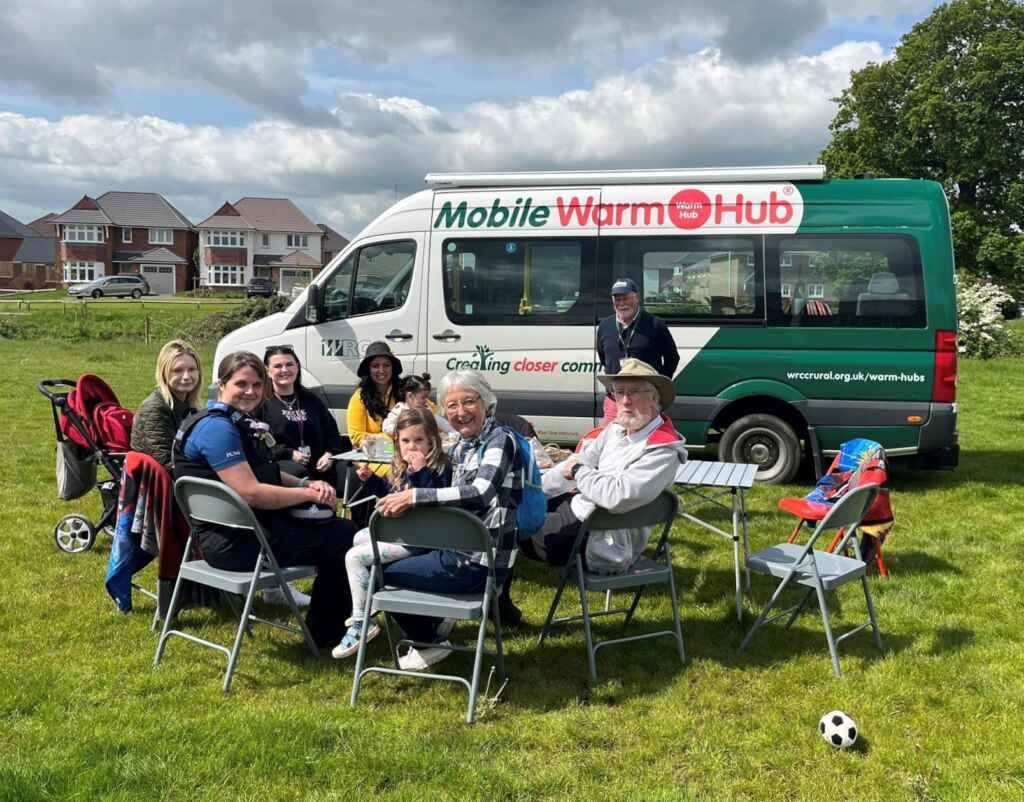 Mobile Warm Hub coffee morning at Myton Green, Warwick
Everyone's Welcome
Our community cafes are open to residents of all ages and our free coffee/tea and biscuits are always appreciated! For some people our outdoor events become a social lifeline and our volunteers look forward to meeting up with our regulars as well as getting to speak to new faces. We've had several dogwalkers and a couple of horse riders attend. Residents have even enjoyed performances by a local community band and a professional magician.
The Mobile Warm Hub community service can work particularly well in areas where there's no existing community space for events. Or where local groups are interested in setting up a permanent Warm Hub event but want to attract community interest and engagement first. We can make up to 12 visits at each location, subject to local need and engagement.
Our converted minibus carries free information handouts on energy saving and home safety matters, as well as free carbon monoxide monitors. We can also carry and distribute information about other community support services and local activities.
Our fantastic Mobile Warm Hub team of volunteer drivers was also shortlisted for a South Warwickshire Volunteer Award for Community Impact 2022.
Mobile Warm Hub Bookings
July – September (summer 2023 service)
The team is currently visiting the following venues up until the end of September 2023.
Mondays: St Michael's Church, Church Street, Stockton CV47 8JG, from 10.30am – 12.30pm
Tuesdays: Wilmcote Village Hall, 38 Glebe Estate CV37 9XL, from 10.30am – 12.30pm
Wednesdays: Stockingford Community Centre, Haunchwood Road, Nuneaton CV10 8DY, from 10.30am – 12.30pm
Thursdays: Elmdon Nature Park, Tanhouse Farm Road, Solihull B92 9EY, from 10.30am – 12.30pm
Our winter service, working with indoor venues, will be running 2-3 days per week from October 2023 – March 2024. (mornings only), so please email warmhubs@wrccrural.org.uk as soon as possible if you're interested in booking this free service.
Watch this space and our social media channels for updates and photos from our visits – we could be coming to your area soon!