'Winter Is Coming' event – 18th Sept, 11am-3pm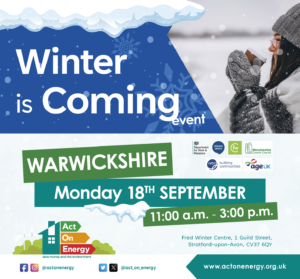 Winter Is Coming – Energy bills are to rise higher than last year for millions this winter.
Despite the energy price cap falling, a rise in the daily standing charge, and the withdrawn energy support schemes…It seems that hard times are coming for many this coming winter.
Act On Energy will be hosting a 'Winter Is Coming' session at Fred Winter Centre, 1 Guild Street, Stratford, CV37 6QY, on Monday 18th September from 11am to 3pm.
We will have drop-in sessions, how to tackle fuel poverty & cost of living discussions and offer discounts of your energy bill for eligible householders (on a first-come first-serve basis).