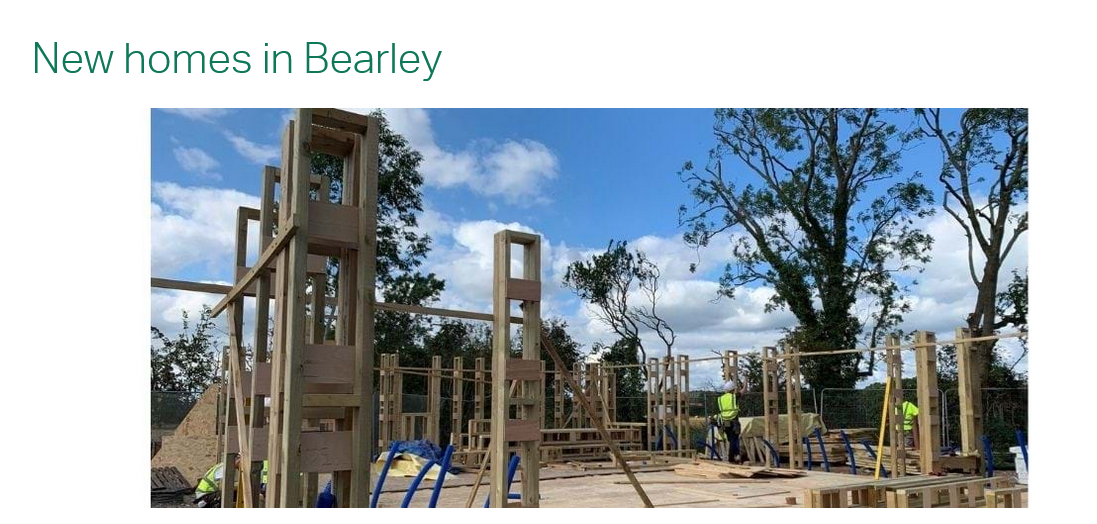 Official opening of affordable homes – Gwens Grove, Bearley
The official opening of seven eco-friendly affordable homes on Gwens Grove in Bearley was the perfect opportunity to remember the scheme's namesake and Bearley community icon, Gwen Smith.
The festive event on Monday 12th December was organised by Pauline Murphy, who was a life-long friend of Gwen Smith and who now lives on Gwens Grove, together with Warwickshire Rural Housing Association (WRHA), who developed and manages the homes.
Despite the freezing temperatures, the local community came together with Gwen's family and local councillors, including Cllr Mark Cargill, Chair of Stratford-on-Avon District Council, to raise a glass in memory of Gwen.
Gwen Smith passed away earlier this year aged 101. She was a well-known and much-loved member of the Bearley community who'd made a big difference to the lives of many local people.
She lived her early life down the road in Snitterfield, part of a farming family, and moved to Bearley after she got married. Her two children, Heather and Roger grew up in Bearley, living just behind Gwens Grove.
As well as being a friend to many, Gwen also made a huge contribution to village life. She ran the lunch club for many years, delivered the local newsletter, sold poppies and was an active member of lots of groups, including the bowls club, the WI, choir, bell ringers and the Why Not? Club.
Guests were invited to bring a bauble to hang on the Christmas tree to celebrate Gwen's life and her contribution to the village. There were some beautiful baubles, and the effort people had gone to showed just how special she was to so many. There was even one with a picture of Gwen dressed as a Christmas elf inside!
Gwen's children Roger and Heather did the official opening ribbon cutting, and told us just what the event meant to the family:
"Bearley was a lovely village to grow up in and Mum absolutely loved living here. There's a real community spirit, which mum was a big part of, she was involved in everything!
"Mum knew how difficult it's become for people to afford to stay in the village. And we know she'd have been delighted to see so many people here tonight celebrating the opening of these new homes. It's such an honour to have a road named after her and it's been our pleasure to cut the ribbon today. Thank you to Pauline and WRHA for organising this evening, it's been lovely, and it means so much to us to raise a toast in mum's memory with her friends. We hope the new residents are very happy in their new homes." Heather Claridge and Roger Smith (Gwen Smith's children)
During the evening, Pauline Murphy held a raffle which raised over £175, for Gwen's favourite charity, the Farming Community Network. Jim Meadows from the charity came along and heard from Gwen's family just how important their work was to her.
The scheme was developed thanks to a successful partnership including WRHA, Warwickshire Rural Community Council's enabling work and Orbit who provided £400,000 of Homes England funding supported by Stratford-on-Avon District Council, who provided £485,000 of grant support.
The seven homes on the scheme, which were all allocated to local people, were the realisation of a 20-year dream for the village, and were built using the high-performance and low-carbon Beattie Passive construction system.
Each super-insulated home has solar panels and an air source hot water and heating system. This not only supports Stratford-on-Avon's ambitious zero carbon plans, but will also mean much lower energy costs for the residents.
As well as providing energy-efficient, affordable housing for local people and reinvigorating a brownfield site, the development also supported the local community by employing trainees and graduates from the Stratford-based  New Meaning Training programme.
Find out more about the new scheme at www.warwickshirerha.org.uk/bearley