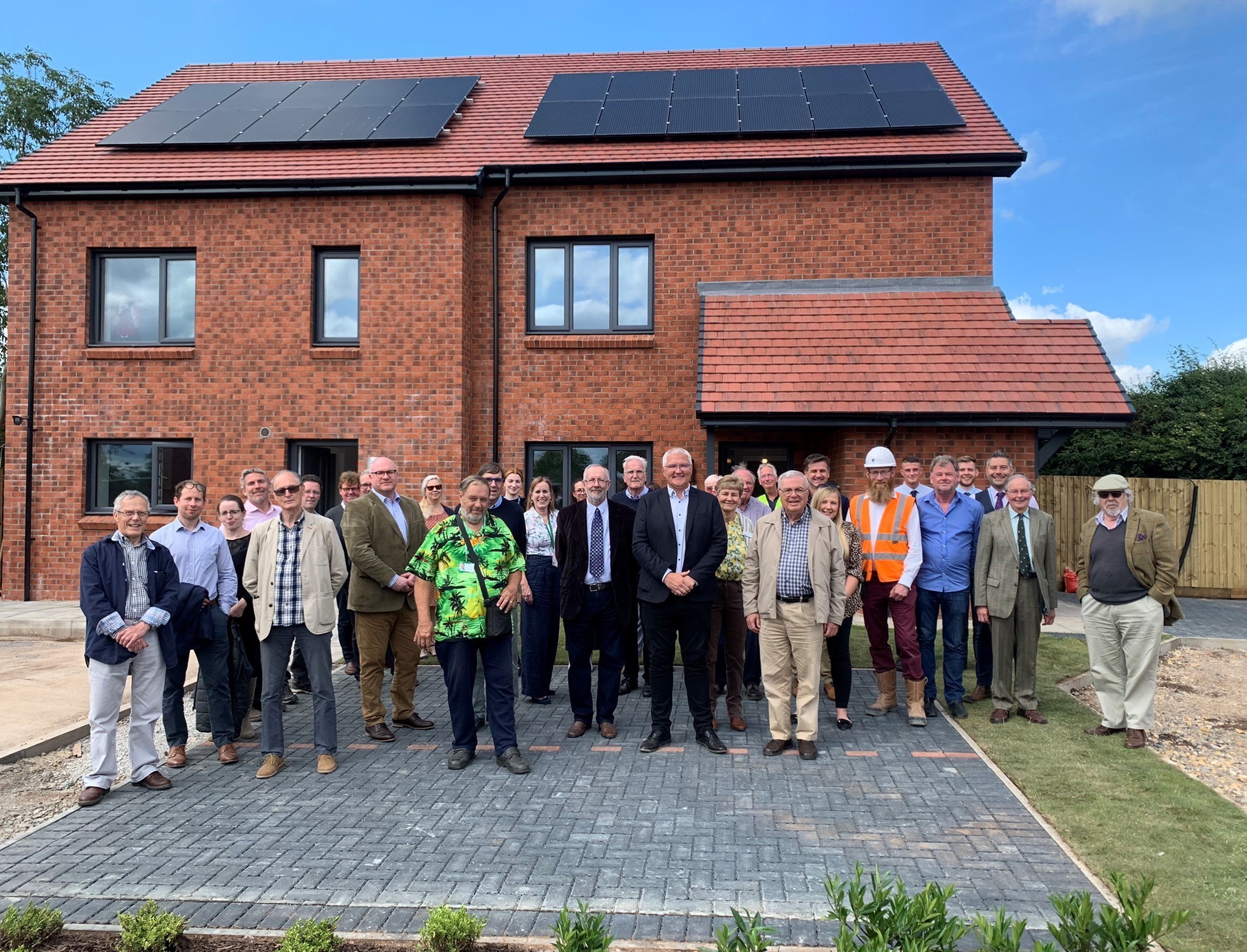 New affordable passive homes in Bearley
During Rural Housing Week 2022, Warwickshire Rural Housing Association showcased their new affordable passive homes in Bearley, which will soon be home to local people.
At the event, hosted with Warwickshire Rural Community Council, they were joined by councillors from Stratford-on-Avon and Warwick District Councils, local parish councils and Homes England, all keen to see the new eco-friendly affordable homes.
The seven homes on the scheme, which is named Gwens Grove, after local resident Gwen Smith, who passed away this year aged 101, have all been allocated to local people, who are looking forward to moving in over the summer.
The scheme was supported by Stratford-on-Avon District Council, who provided £485,000 of grant support, and Homes England who provided over £400,000 of funding.
The homes are the realisation of a 20-year dream for the village, and have been built using the high-performance and low-carbon Beattie Passive construction system.
Arslan Erinmez, Chair of Bearley Parish Council explained just what the new homes mean to the village:
"We are very proud of these affordable new homes, which were built on two small brownfield sites.
"They will have a very positive effect on our community. The mix of houses, bungalows and maisonettes will enable people to downsize and will also enable younger people, who'd had to move away as they couldn't afford to live in the village, to move back to live closer to their families."
And married couple Chloe and Edward know first-hand just what a difference good-quality affordable homes make in rural areas. Chloe, who has lived her whole life in Bearley, and her husband Ed are due to move into their brand-new home in the village later this month.
"We both work full-time, but housing in Bearley is still outside our price range. We were living in a private rented home but, when the landlord sold it, we couldn't find anywhere else affordable to live in the village.
"It's been a very difficult time for us. All our friends and family are in the village and we work locally too. We didn't want to leave.
"So, since September, our only option was to live apart from each other, with our respective parents. Not how married life should be!
"When we found out our application had been successful, we were delighted. We're excited to move in.
"And, the fact that this is a passive home is amazing, as it will help keep our energy bills low."
Each super-insulated home will also have solar panels and an air source hot water and heating system. This not only supports Stratford-on-Avon's ambitious zero carbon plans, but will also mean much lower energy costs for the residents.
As well as providing energy-efficient, affordable housing for local people and reinvigorating a brownfield site, the development also supported the local community by employing trainees and graduates from the Stratford-based  New Meaning Training programme.
Students and graduates from New Meaning Training, an inspiring hands-on programme for young people, who didn't engage with the traditional school system, to learn a trade, get qualifications and earn an independent living, were involved in the construction of the timber super structure.
The involvement of New Meaning is supported by Councillor Ian Shenton, Portfolio Holder for Environment and Climate Change at Stratford-on-Avon District Council who said:
"The low-carbon construction and the innovative energy saving technologies support Stratford-on-Avon's vision to be one of the UK's first carbon-neutral districts.
"To see a number of organisations working together to provide high quality, energy efficient affordable housing whilst also teaching new skills, in a practical way, to those less well off or disadvantaged is a fantastic combination which I applaud and support wholeheartedly."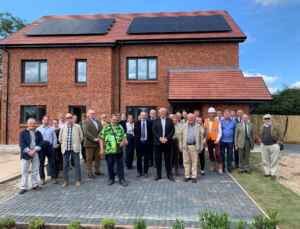 Photo: Stratford-on-Avon District Councillors and officers, Warwick District Council Councillors, Homes England, and local parish councillors visit new affordable homes in Bearley
Find out more about the new scheme at www.warwickshirerha.org.uk/bearley