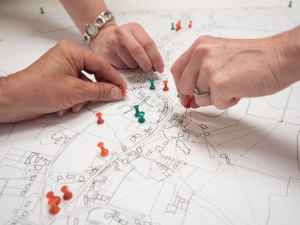 NDP top tips from Locality
Author:
sarah brooke-taylor
Categories
Neighbourhood plans are community driven plans produced by local people. However, you may find that there are certain stages of plan making where you believe some professional input will be helpful.
Neighbourhood planning groups can fund professional consultants using grant funding from Locality's neighbourhood planning programme.
Typically, groups commission a professional planner, but some groups have also hired design professionals, community facilitators and other experts. Locality can fund professionals as long as the work relates to the formulation of land use policy.
To find out more about funding criteria read Locality's Grants and Technical Support Guidance Notes.
Below are some general points worth considering before you start looking for a professional consultant.
Think about why you want to speak to a professional and when it may be useful to have their input.
For some groups it's useful to have a professional planner on board at an early stage, to set an understanding of what it is possible to achieve through a neighbourhood plan.
Speaking to your LPA or a professional planner early on can help you avoid undertaking work that falls outside of the scope of neighbourhood planning.
If it seems challenging to find a planning consultant, the Royal Town Planning Institute (RTPI) have an online directory of accredited planners. However, you may find that a recommendation from a nearby neighbourhood planning group or your LPA is a good way to find someone local with neighbourhood planning experience.
There is only a limited amount of grant funding available. Try to think about what is essential vs. what would be nice to do. Using Locality's Project Planning Tool can help you manage your workstream and budget.
Are you aware of Locality's technical support packages? These are free packages of specific support which have no bearing on grant support. Using technical support may free up funds for professional costs not covered through technical support.
Finally, remember that planning consultants are there to help you prepare your plan but it is a community led plan. Stay involved and manage the process.