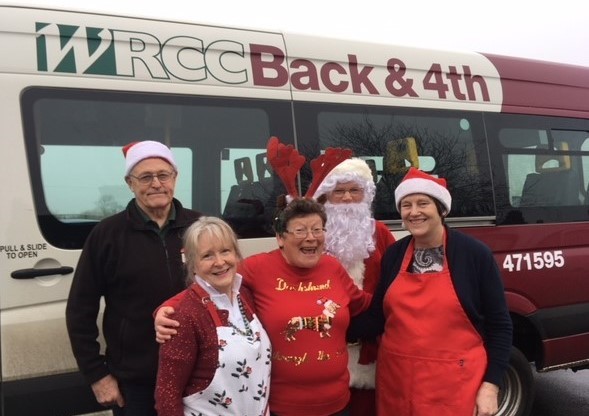 Helping our communities have a Happy Christmas!
Author:
Kim Slater
Categories
Christmas cheer is spreading all around Warwickshire, and WRCC Back&4th community transport is at the heart of the action.
On 19 December, Nosh and Natter celebrated their Turkey and Tinsel Christmas lunch at Lower Quinton Village Hall, and we were there to help get some of their 70+ members to this fantastic community event. It was a day to remember – with a festive feast, lovely carols from the local nursery and primary school children, an amazing raffle, and Father Christmas himself!
Nosh and Natter use WRCC Back&4th every month. They've created their own community, open to all, with monthly lunches and lots of other events "to help ease the loneliness our members may otherwise feel", says club organiser Barbara Craig. "It's ideal for me as I've got a ready made driver!" says Nina Drummings.
And this week alone WRCC Back&4th are helping pupils from schools and nurseries, care home residents, young carers, over 60s clubs and University of the Third Age members to get out and about and celebrate. Even on Christmas Day itself, some of our volunteer drivers are helping to transport people to the Warwick Town Christmas Lunch.
Jude Henderson, Senior Project Manager for WRCC Back&4th, says: "We're really proud to offer a great and cost-effective community transport service across Warwickshire. Our volunteers are fantastic and really bring the Christmas spirit to life!"
To find out more about hiring our subsidised, modern community transport minibuses, please contact Gareth Jones on 01789 471595.