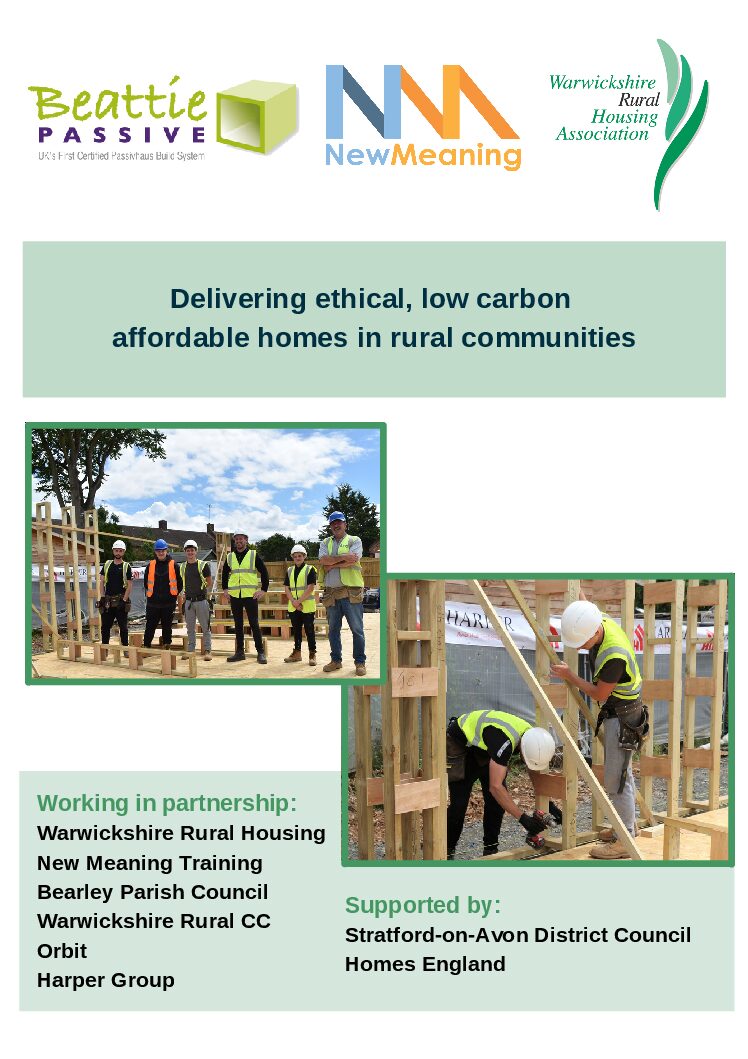 Bearley's low carbon affordable homes are underway
Warwickshire rural housing specialists showcase their commitment to zero carbon, supporting local communities and working in partnership

Rural housing specialists Warwickshire Rural Housing Association, in collaboration with New Meaning Training, recently held a passive house event on their site in Bearley, to showcase their latest low carbon, affordable homes.
Stratford-on-Avon District Council members and officers, were joined by other developers and housing associations to learn more about the Beattie Passive system as an option for building affordable homes.  It was also an opportunity for Warwickshire Rural Housing Association (WRHA) and developers Harper Group to share how social enterprise education provider New Meaning Training (NMT) is making a difference on this development.
The seven homes, which are the realisation of a 20-year dream for the village and will be prioritised for local people, are being built using the high performance and low carbon Beattie Passive system. Each super-insulated home will also have solar panels and air source hot water and heating systems. This not only supports Stratford-on-Avon's ambitious zero carbon plans, but will also mean much lower energy costs for the residents.
At the event, NMT director, David Lett shared how their inspiring programmes support and train young people – who didn't engage with the traditional school system – to learn a trade, get qualifications, earn an independent living and gain confidence in themselves. He also explained how they are involved in this development: "Trainees and graduates from the New Meaning construction course are building the timber superstructure here in Bearley. It's a great opportunity to put their new skills into practice."
Councillor Ian Shenton, Portfolio Holder for Climate Change at Stratford-on-Avon District Council said: "It was great to see the progress on the Bearley passive homes. The low-carbon construction and innovative energy saving technologies support Stratford-on-Avon's vision to be one of the UK's first carbon-neutral districts. And it was fantastic to learn that New Meaning have opened a new centre here in Stratford, where they will train more local young people in construction. To see a number of organisations working together to provide high quality, energy efficient affordable housing, whilst also teaching new skills, in a practical way, to those less well off or disadvantaged is a fantastic combination which I applaud and support wholeheartedly."
Find out more at warwickshirerha.org.uk/bearley