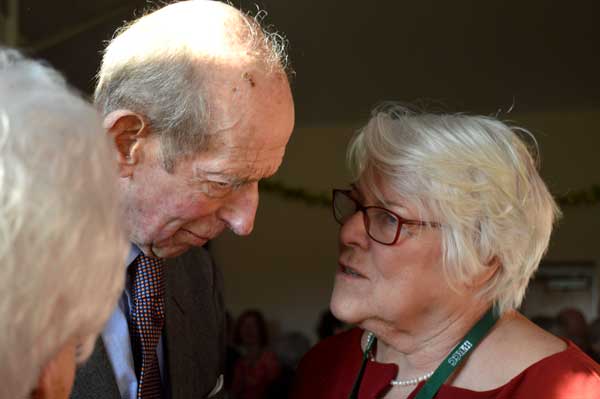 80th Anniversary Celebrations receive Royal Visit
WRCC and Fillongley Village Hall celebrated their 80th Anniversaries on 13th December 2018 at an event attended by His Royal Highness The Duke of Kent.
Over 110 people crowded into the village hall and the excitement was palpable when His Royal Highness arrived. Mrs Shelia Onions BEM, herself a recipient of a North Warwickshire Community Award, introduced His Royal Highness to representatives from over 25 village organisations, WRCC trustees and other special guests.
On 14th December 1938, His Royal Highness's father, the then The Duke of Kent, officially opened the newly built Fillongley Village Hall, the first hall to be built with support from WRCC.
WRCC Chief Executive, Kim Slater, stated "The importance of village halls in rural communities cannot be ignored. Most of the organisations here today have made use of the village hall and credit must go to the village hall committee for maintaining such a wonderful community space over the last 80 years".
During last week's celebrations, His Royal Highness signed a certificate to mark the anniversary which will be mounted in the village hall next to one signed by his father in 1938.
The event was also attended by Mr Tim Cox, The Lord-Lieutenant of Warwickshire, Mrs Clare Sawdon JP, High Sheriff of Warwickshire and Cllr Denise Clews, Mayor of North Warwickshire.
All the images from the event can be viewed at https://www.wrccrural.org.uk/80thimages/