Mobile Warm Hub
Mobile Warm Hub
Our new Mobile Warm Hub service is run by WRCC and VASA working together, supported by Cadent Gas.  We have converted a WRCC Back&4th community transport minibus to help our charities tackle social isolation and loneliness, and reach out to more rural residents more rapidly.  The service starts on Tuesday 4th May and is visiting rural and semi-rural areas in Warwickshire and Solihull on a daily basis, Monday to Friday (excluding Bank Holidays), supported by volunteer drivers and hosts.  Find our initial schedule below.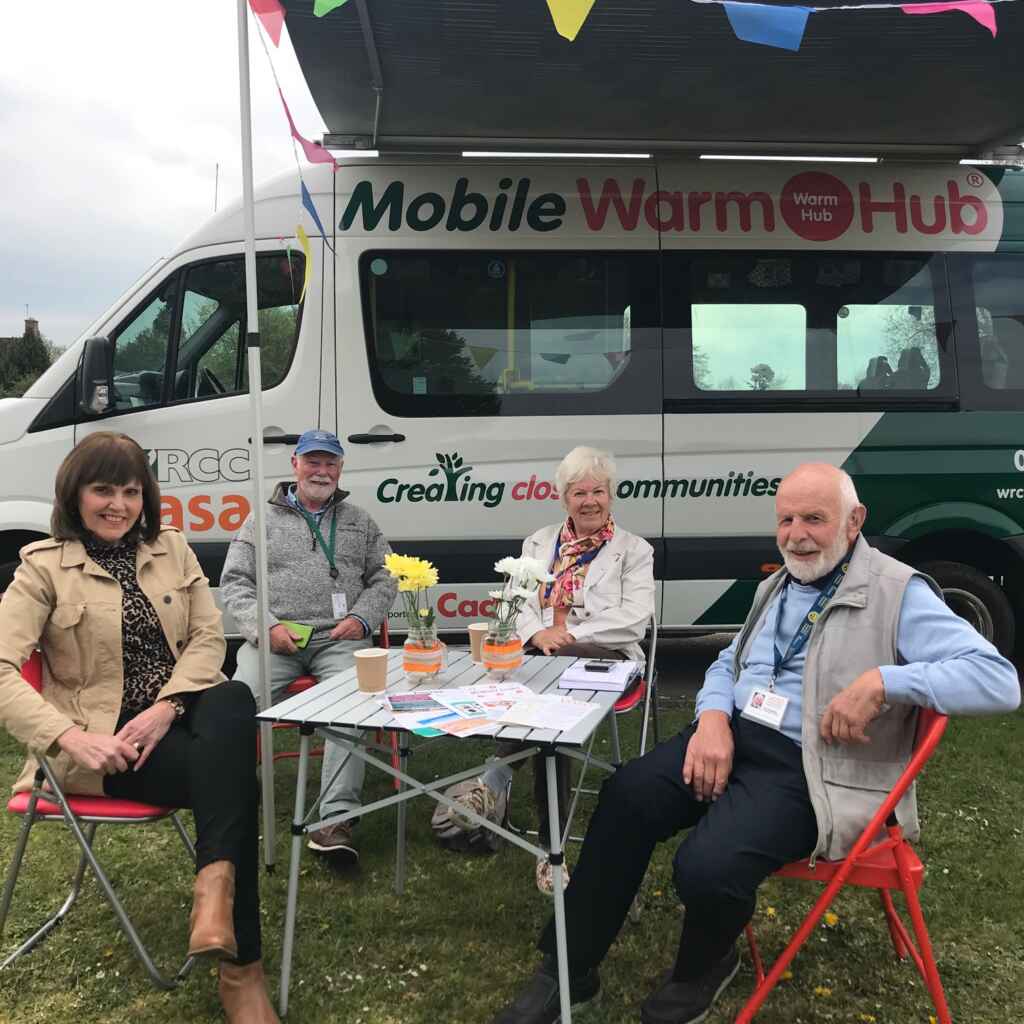 The Mobile Warm Hub visits selected villages and encourage people to meet and chat (allowing for Covid-19 restrictions in force at the time). We park in a suitable location, set up picnic tables and chairs, and serve free refreshments for a couple of hours. When social distancing requirements permit, up to eight people can be seated in the minibus, or six people plus a wheelchair user. We hope that as well as enjoying the chance to get out and meet others in a safe outdoor space, people will also, over time, start to come up with new ideas for local community activities.
Different communities have different needs and our Mobile Warm Hub can pay weekly visits,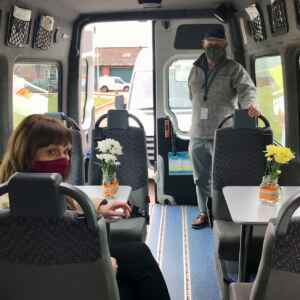 monthly visits or occasional stops as required, subject to availability. It can provide a welcoming space for communities while halls start to come out of lockdown – and may themselves be interested in becoming future Warm Hubs – as well as being a place for residents to meet in more remote areas with no local facilities.
The Mobile Warm Hub carries leaflets and materials about energy saving and home safety matters, as well as information on a range of other community support services. We're collaborating with organisations across the county such as Act on Energy and the Mobile Libraries Service, and project supporters may also join us from time to time to provide helpful community information and advice.
First locations
All our community visits run from 10.00am – 12 noon, Monday to Friday, unless otherwise agreed.  Our initial schedule, starting on Tuesday 4th May, is as follows:
Mondays –  occasional "one off" bookings – please call our number below to check availability
Tuesdays – Atherstone and surrounding villages
Wednesdays – Bidford and surrounding villages
Thursdays – Temple Herdewyke
Fridays – Shipston area and Quinton
Watch this space and our social media channels for updates and photos from our visits – we could be coming to your area very soon!
Next steps
Would you like to book a Mobile Warm Hub visit to your village? Or would you just like to find out more about what we're doing and how your community can benefit? Get in touch with us now to find out more.
For information about our Mobile Warm Hub, please call 01789 777986 (Mon – Thurs, 9.00am – 4.00pm; Fri 9.00am – 1.00pm, answerphone service available outside these times) or email mobilewarmhubs@vasa.org.uk.
And for information about WRCC's connected Warm Hubs project, which helps village halls and community groups tackle social isolation and loneliness in rural communities, please email warmhubs@wrccrural.org.uk
We look forward to hearing from you!